Description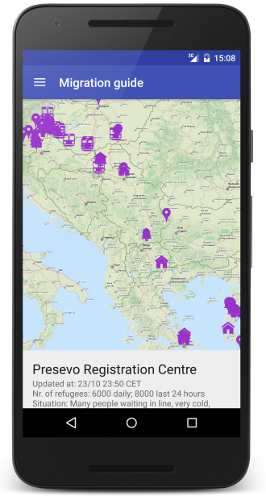 An Android-App to help refugees on their way.

Almost everyone fleeing has a smart phone.
The idea of this app is to help refugess on their way with reliable information from helpers:
Where are the bordres closed, where are contact points, where are the municipalities overwhelmed, where is WiFi, to just name a few of our ideas.
Contact points und other information will be visualised with symbols on a map. Breaking news will be presented on the website that is feed by supporters. The refugees will be able to add information about secret points by themselves.
All information will be avialable in multiple languages and will also be available offline.
Motivation Background information
60 million people are forced to leave their native country, because of war, persecution and natural disasters. Many of them are searching for protection in Germany and Europe. We (RefugeeTransit Working Group) perceive the German and European refugee policy as an policy, which does not fight the reasons of the flight of millions of people, but perennially creates them. But after a small pause, in the face of wars, natural disaster, death people in the sea, barbed wire - whether on the flight or in the native country - in short: this whole madness, we want to support people on their search after a perspective beyond walls, fences, armed forces, deportation and exploitation.
It requires an urgent solution to transform survival habitats into humane habitats. But until that happens, we maybe can contribute digitally to their burdensome travel with RefugeeTransit and support them on their way.
We do what we do best - we program. Information is essential for survival. We are developing an app in the hope that these people arrive, get there or come back - to a place where they can live a good life.
Status Status of the development
Uniform database: For the input of entries from supporters, we work with people of First Contact who built a website which is already in use (example: http://refugeeinfo.eu/lesbos/en/).
The page has a simple design and has a small footprint to load fast on mobile devices. It is maintained by the supporters themselves and the information is kept up-to-date. The input of information is done using Google Sheets. The data is stored on a secure server in Hamburg.
After the input of the information in English, the new entries are automatically pushed to the website, translators (here we still have need for resources) translate the information in to other languages. This is not done in real-time, but immediately after the input. Currently we test this procedure with supporters from Kiel, to check if it works as expected.
About us Who are we?
We are a random bunch of people, consisting out of eight developer. We are inspired through the experiences of a refugee supporter in our rows. We got together for the first time during the Refugee-Hackathon in Berlin that took place from October 23.-25. 2015 where we started to prototype the idea.